We have a small British seasonal menu and list of specials to tickle the taste buds, or if you just want a nibble, we offer a range of bar snacks. In summer months we have a barbecue in our beer garden, whilst always offering a delicious traditional roast on Sundays.
Have a look at our menus:
Please note: due to seasonal produce availability some items may change from day to day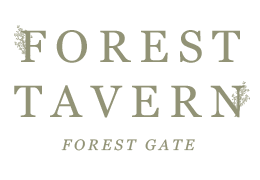 STARTERS

Roast Cauliflower Soup, Chargrilled SourDough (vg, v)
Add stilton £1
£5
Salt & Pepper Squid, Spring Onion, Siracha Mayo, Rocket
£7
Sauteed King Oyster Mushroom, Green Beans, Jerusalem Artichoke PurŽe, Mushroom Sauce (vg, v, gf)
£6
Roasted Carrot Salad, Thyme, Pomegranate, Chickpeas, Mint, Lemon Zest (vg, v, gf)
£5

MAINS

Cumberland Sausages & Mash, Mustard Mash, Caramelised Onion Gravy, Chopped Chives (gf)
£7
Fish Pie, Fish, Leeks, Onions, Creme Fraiche, Colcannon Topping (gf)
£13
"The Forest Tavern" 6oz Cheese Burger, Burger Sauce, Grated Cheese, French Fries
Add Streaky Bacon for £1
£10
Beer Battered Fish & Chips, Haddock, Triple-Cooked Hand-Cut Chips, Peas,Tartare Sauce (gf)
£12
Baked Chicken Risotto, Button Mushrooms, Risotto, Tarragon, Parmesan (Vegetarian Option Available)
£13
Spiced Veg and Bean Chilli, Diced Onions, Jalapenos, Aubergine, Butterbeans, Mix Peppers, Plum Tomatoes (gf, v, vg)
£12
Mushroom & Goat Cheese Burger, Portobello Mushrooms, Goat-Cheese, Burger Sauce, French Fries (vg)
£10
Lamb Rump, Cavolo Nero, Cauliflower & Rosemary Mash, Lamb Jus (gf)
£14

SIDES

Triple-Cooked Chips/ French Fries
£3.50
Green Beans & Peas
£3.50

DESSERTS

Chocolate Brownie, Salted Caramel Ice Cream & Chocolate Sauce
£5
Pear Apple Raisin Crumble, Vanilla Ice Cream
£5
3 scoops from: Vanilla, Chocolate or Strawberry Ice Cream / Mango or Raspberry Sorbet (gf, v, vg)
£4.50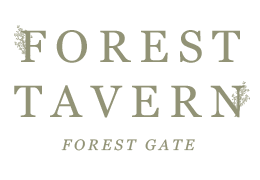 STARTERS

Garlic Hummus & Tzatziki, Herb Bread Sticks (v)
£5.00
Salad of Mixed Beans, Chorizo & Rocket, Green Chilli Dressing

£5.00
Grilled Sea Bream, Peas, Confit Lemon Purée, Potato Crisps

£5.50
Poached Chicken and Mushroom Ballotine, Dressed Rocket

£5.50

MAINS

Salad of Peas, Lettuce, Avocado, Orzo (vg)
Served with Parmesan (v)

£9.00
'The Forest Tavern' 6oz Cheese Burger, Triple-Cooked Hand-Cut Chips
Add Bacon for £1

£10.00
Beer Battered Fish and Chips, Cod, Triple-Cooked Hand-Cut Chips, Crushed Garden Peas, Tartare Sauce
£11.50
Chicken Caesar Salad, Cos Lettuce, Confit Garlic Mayonnaise, Parmesan, Bacon & Anchovy
£10.00
Pan Fried Cod, Garlic New Potatoes, Peas, Broad Beans, Asparagus
£13.50
Orzo in White Wine Cream, Peas, Mint (v)

£9.00

ROASTS

All roasts served with Roast Potatoes, Honey Roast Carrots, Spring Greens, Green Beans, Cauliflower Cheese, Red Wine Gravy & Yorkshire Pudding
Mushroom, Chestnut, Spinach & Feta Wellington (v)
£11.00
Roast Leg of Welsh Lamb
£14.50
28 Day Aged Scottish Ribeye
£14.50
Slow Cooked Pork Belly
£13.50
Suffolk Chicken Breast
£13.00

DESSERTS

Sticky Toffee Sundae, Butterscotch Sauce, Honeycomb

£4.00
Elderflower Panna Cotta, Gooseberry Compote, Spiced Shortbread

£5.00
Triple Scoop of Ice Cream: Vanilla, Chocolate, Salted Caramel

£4.50
All our meat is fully traceable, poultry and eggs are free range and fish caught sustainably.
Please inform us of any dietary requirements you may have and we will do our best to accommodate them
Some of these dishes may contain traces of nuts, gluten or dairy. Please ask your server before ordering
SERVICE CHARGE IS NOT INCLUDED. ALL TIPS GO DIRECTLY TO THE STAFF